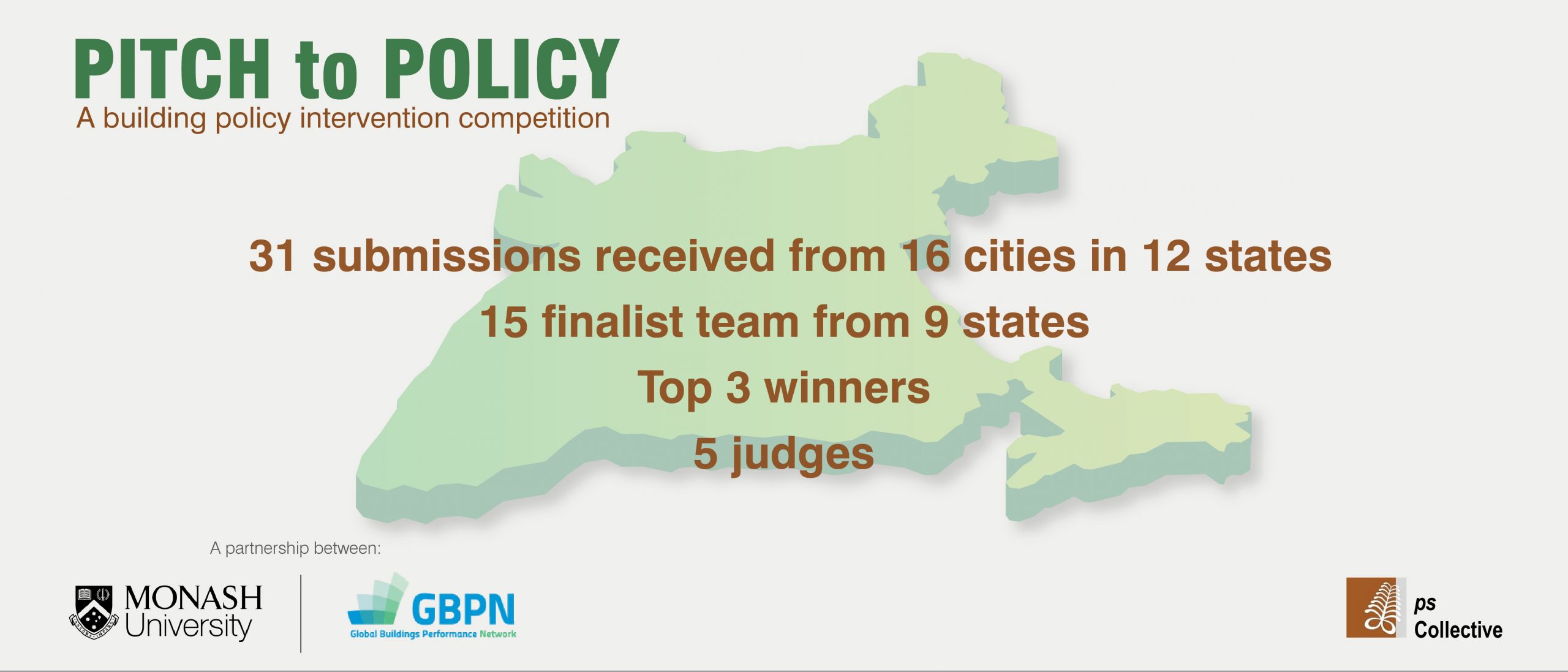 Winning P2P ideas will contribute to lower CO2 emissions. They are scalable and not hindered by patents or intellectual property or commercial concerns.
Not in any particular order.
A fresh perspective on energy efficiency
Life cycle, or "cradle to grave" accounting of fossil fuel use in constructions is sorely missing from present regulations around low-carbon building. Understanding, measuring and controlling how much energy went into materials, how much goes into demolition and where other unaccounted carbon creeps into buildings will be critical for closing all gaps in a low carbon future. The project requires access to BEE.

Rajesh Malik, Sneha Murthy
Eco-house
A design tool optimises house design for energy use. It was used to build a low carbon home that has recorded 20 years of energy demand data at 10% of its (conventional) neighbour homes. This tool will be provided as a free website with the support and promotion of governments.

Prof. (Dr.) Chitrarekha Kabre, Kalpana Tyagi, Sakshi Singhal
ECOcollab

Built environment is so diverse, very promising actors and techniques may be hidden and a central place for all opportunities to be known is sorely needed. EcoCollab provides a new web service with a tool that advises on design from its ecosystem of hundreds of bespoke sustainability businesses. The team needs this free service used and promoted by government for ENS certifications.

Arundhati, Anamika, Megha Nath, Ranjith, Ganesh
Energy Edu-preneur
India will soon have compulsory certification required for possibly thousands of buildings a day. Certification requires skilled assessors and architects are well placed to perform this task. The project will reinvigorate government efforts to train undergraduate architects to be assessors. It needs support to freshen existing electives and for the government to specially recognise those who complete this elective as "certified" professionals.
Dharini S K, Abdul Moeed, Arihant Jain
Equitable weatherisation benefits
Like a "frequent flyer" card, the project's green credit card will allow value to be exchanged between energy saving systems which create value to renovations and installations, reducing the cost of further action on sustainability. Previously hard to monetise, improved thermal comfort is now "traded" and improved via the green credit card. The team requires assistance to set up its first financial vehicle to account for credits between suppliers and buyers.
Dr. Surabhi Joshi, Dr. Shashank Agrawal
GI GI
By using an innovative "green meter", homes that invest in sustainable changes and behaviours are double-rewarded. They firstly gain by paying lower energy bills, then thanks to the green meter, they are remunerated from the savings the DISCOM makes in avoided energy infrastructure. The project is after government support and a partner DISCOM.

Govinda Somani, Samata Mundra
GreenTree Global
The project will automate ENS certification with a friendly website to help support rapid building growth in Lucknow. The team is experienced in both ENS and website development and will greatly speed up and simplify the ENS implementation. They require support to deploy and offer the tool.

Suparna Havelia, Anurag Bajpai, Raj Verma, Pradeep Kumar
Ksquared
Upgrading and improving informal settlements has experienced varied levels of success. A new programme is proposed where the settlement community itself is upskilled to replace dwellings in a manner that is local, culturally appropriate and highly sustainable. The project has already engaged government organisations and now needs support for capacity building.

Kanchana Ganesan, Kshithij Urs
LEAD
The large growth in ENS certifications requires rapid recruitment of qualified experts to help with what will be a 10x increase in the highly skilled work needed. The project will set up a centre of excellence to admit experts, assess them and provide them to local governments. The team is already experienced in the role of being a government resource for ENS certification. They require a cooperating local government to try this new form of delegation.
Gayathri NS, Selvarasu M, Rathnashree P, Kanika Gupta, Abhilash K Prabhu
LEAF AC

Before ENS there were efforts by proactive banks to offer discount green mortgages. This approach will be revivified by the project given huge new demand from ENS. The project will work to help banks re-assess risks which are reduced by ENS certification. This will allow lower-cost mortgages - a win for owners and banks. The project requires government endorsement of this approach so that it can recruit more banks.

Swapnil Mangle, Pratiksha Chipade
Mainstreaming engineered Bamboo
Bamboo - a super-material that grows 3x faster than trees and captures 6x the carbon can also rejuvenate depleted lands. Adapting bamboo for facades and structural components in India will open an entirely new market for this material. The project requires government to assist it in large scale plantings on degraded lands.

Vidya Bhamidi, Artison Agrotech
Mix-Des' Fab
A new approach to cement substitutes for concrete means that finally structural members can be designed in buildings that have not required large cement CO2 emissions. This will demonstrate a burgeoning field which previously has relied on high carbon coal ash and steel slag as an additive for concrete. The project seeks support for a demonstration of a low carbon structural concrete residential building made this way.

D E V S Kiran Kumar, A S Krishnan Unni, Ch Krishna Chand
Mobius
Landmark green buildings often have green walls - plants and ferns grown vertically. This approach has many benefits for sustainability such as sequestering carbon, absorbing noise, filtering water and improving wall insulation. So far this has been more of an expansive 'decoration'. The project will mainstream this technology to social housing with a low maintenance, low cost covering that can go on any hot wall. The project requires support to demonstrate this approach for social housing.

Apoorva Bhate, Shoumik Desai
Oorja Energy
Commercial buildings enjoy low-energy cooling that is provided by pumping cold water through the floors. This reliable, low-tech, low-energy approach would revolutionise how residential buildings are cooled in India. As residential buildings are inhabited around the clock such commercial cooling will provide double the benefit. The project requires a demo site to install this system and promote this approach to cooling.
Madhusudhan Rapole, Vamsi Krishna, Anand Thoopal
TAD
TAD is a mature design tool which provides several powerful AI-driven features to increase the level of automation for design. Whereas conventional CAD inhibits exploring multiple models and versions for a design, TAD fully manages this "abductive", or much freer approach to design. Written by an award winning computer scientist who is an experienced architect, TAD is a free tool with a large FOSS community. With help from ENS team, TAD will be adapted for ENS and made freely available.

Sabu Francis Vadukkut, Audrey Sabu Vadukkut